Official Bio
Dahlia Hamza Constantine loves learning and exploring the world all around her. She was born in Cairo, Egypt and loves sharing her heritage and culture through stories. She is also a former elementary school teacher, a researcher and now a brand new author. As a teacher, she centered the local community through neighborhood walks, meetings with local activists, government officials, public historians, artists and business owners in a yearlong community mapping project. As a writer, she is still obsessed with how kids understand and interact with the communities in which they live. Dahlia is currently pursuing her MFA in Writing for Children and Young Adults at Vermont College of Fine Arts.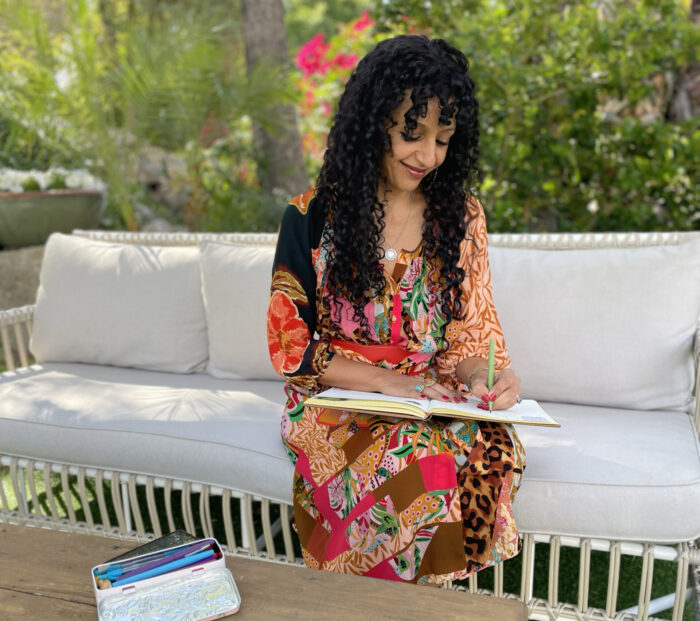 Eight (Random) Facts About Me:
8 is my favorite number. Why? Because if you turn it sideways it looks like the infinity symbol and that's just kind of cool.
Like many authors, I loved reading and writing and story time as a kid. My sisters and I were so lucky to be surrounded by stories everywhere we looked (and listened). I was born in Cairo, Egypt where so many of our ancient temples have the stories of our ancestors written on them. Granted, I couldn't read hieroglyphics (and still can't)…but I love that there are stories all over the place. In Egypt, like in many Mediterranean countries, we eat a big delicious meal in the afternoon and then take an even more delicious nap. Before our nap, my parents would take turns telling us stories. My mom loved reading us picture books about all the heroes of Egypt. But my dad loved to make up his own stories to tell us. They often involved very naughty kids who went on amazing adventures and were supported by their neighbors, and friends and even a magical elephant. Because who doesn't love a magical elephant?
When I was in third grade, we immigrated to the United States, where my grandparents lived. My grandma spoke a lot of languages and loved to read us books from different cultures. She had a red Grimm's Fairy Tale book she loved reading from. We also loved The Wind in the Willows and Anne of Green Gables. Like my dad, my grandpa loved the oral tradition (that just means stories you say out loud instead of reading from a book). He told us stories of his childhood in Egypt and all the adventures he had. He was pretty naughty also.
When I grew up, I became a teacher so that I could read and write and tell stories with my students. Even though I was the teacher, my students taught me so much about writing funny stories, and poetry and being super creative.
I am a proud military spouse. My husband is a United States Marine and I am so proud of his service to our country. I am looking forward to writing a story about kids who live on a military base and solve mysteries.

The newest member of our family (and one of my biggest teachers) is Kelba. Kelba is a Rottweiler but she thinks she is tiny and loves to sit on my lap. I love snuggling with her but I wish her elbows weren't so sharp! Kelba loves to explore the neighborhood with me and to smell EVERYTHING along the way. Some of you might have noticed that Kelba means dog in Arabic. My husband thought this would be funny and since originally she was his dog, I couldn't say no.
Exploring is one of my favorite things to do! In fact, I can't imagine my life without exploring. Sometimes this means traveling to new countries like Argentina or Vietnam or Scotland. Sometimes it means seeing new places in the United States like the green mountains in Vermont or the Everglades in Florida. And sometimes it means discovering a secret alleyway in our neighborhood or a botanic garden that's only 10 minutes from our house.
You can probably tell from the last fact that I also love nature. I adore the smell of trees and flowers and hiking on new trails. My favorite place on this planet is the Redwood Forest in California. Some of the trees there are thousands of years old!